3rd International Conference on Electronic Engineering and Renewable Energy 2022
Dr. Hélène Marrou: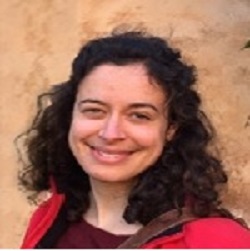 Biography:
Hélène Marrou is assistant professor in Agronomy at the University Mohammed VI Polytechnic. She holds a PhD in Agronomy from Montpellier Supagro (France). She has conducted the first agronomic assessment of innovative mixed systems combining crops and solar panels (so called "agrivoltaïc systems"), before developing research projects on water and nutrient use efficiency in diversified crop rotation in the Mediterranean region. She is skilled in conceptual modeling, and cropping system design, but also in bioclimatology and crop physiology. She acquired proficiency on numerical crop models with Pr. T. R. Sinclair at North Carolina State University. In 2017, she was awarded the Agreenskill program for her project on nutrient fixation and nutrient cycling in crop rotation with ICARDA. She is involved as the leader or as a participant in several tran- Mediterranean international research projects on sustainable intensification of semi-arid drylands agriculture. Helene Marrou has been teaching course modules on Mediterranean agronomy, crop physiology, cropping system design, statistical science, and crop modeling in Montpellier SupAgro Master and engineering program for 5 years. She is one of the main contributors to the -under-development- online modeling program "Enhancing Modeling Skills for Agronomists and Crop Scientists" (EMSACS).
Abstract:Agrivoltaics: novel systems to optimize the food water energy nexus.
As food demand rises, climate change makes it more urgent than ever to reduce fossil energy consumption and to find adaptations to produce food in increasingly hot and dry environments. Over the past three decades, scientists around the world have proposed a solution to this difficult equation. "Agrivoltaics" consists of co-locating solar panels with crops. While solar panels intercept light for energy production, they provide shade for crops grown underneath and thereby reduce crop water consumption. This presentation will propose a review of the most recent advances in understanding their functioning and of the leverage for optimizing food production, energy production and water consumption within these systems.